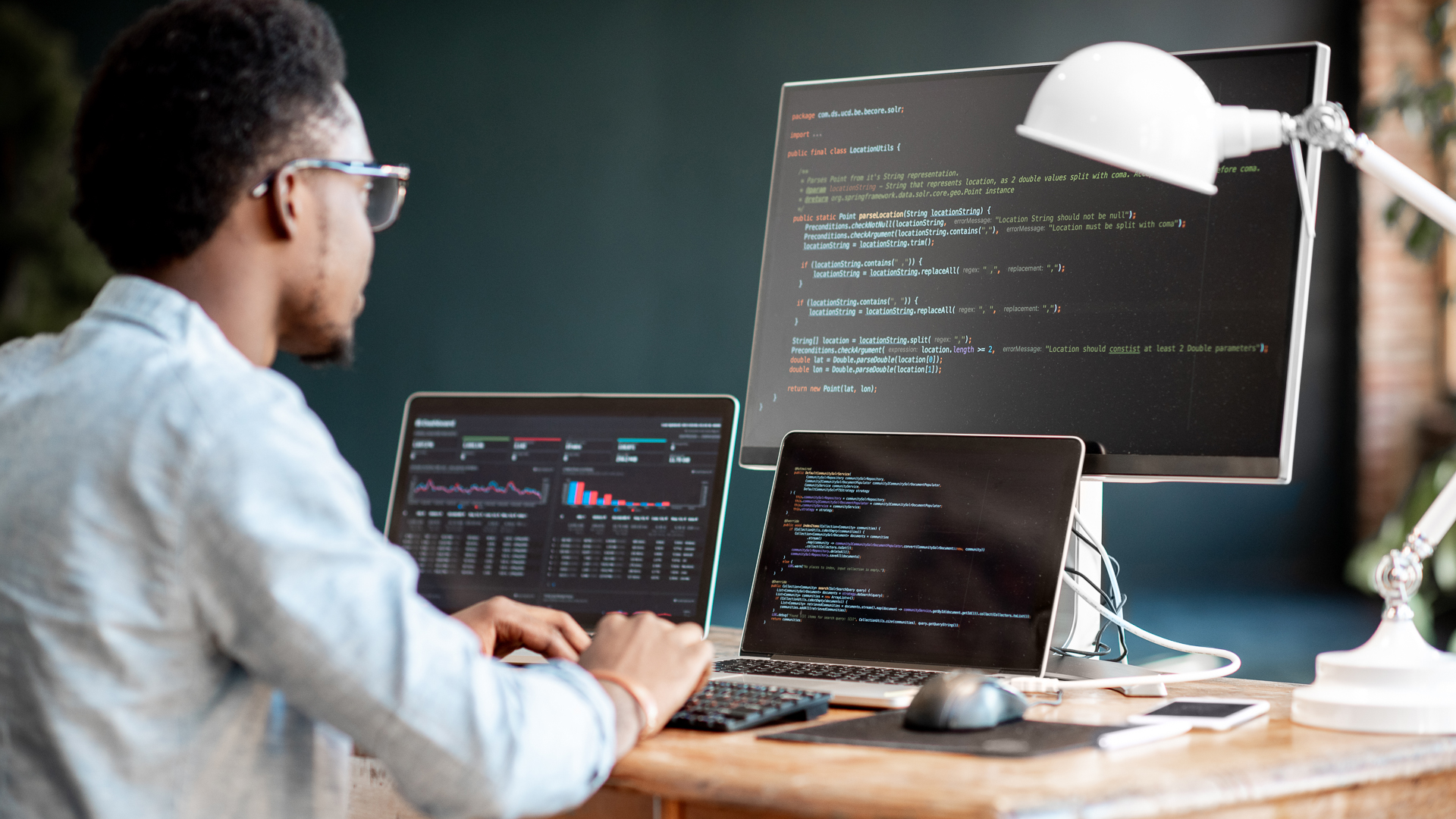 8 Best Gigs for Software Developers
Ross Helen/Getty Images/iStockphoto
Computers make the world go round these days. If you work in industry as a software developer, you and your skills are in high demand. The Bureau of Labor Statistics, in 2020, pegged the median annual salary for software developers at $110,140 and expected the number of jobs to increase by 22% between 2020 and 2030.
Related: 22 Side Gigs That Can Make You Richer Than A Full-Time Job
Check Out: 5 Collectibles Worth Selling For Extra Cash
If you have more time after your workday for side gigs — or want to break the 9-to-5 routine and start your own business — there are plenty of opportunities to sell your skills elsewhere. Consider these options for side work as a software developer.
Blog about your work
As an experienced software developer, you undoubtedly have a lot of information to share with those new to the industry or with other professionals looking for new ways of doing things. Put your thoughts into words and create a blog. Hand out business cards at networking events in your industry or tease your blog on your LinkedIn page to advertise.
POLL: Have you skipped any of these essential expenses because of rising prices?
Depending on the site you use to host your blog, you can generate revenue through paid advertisements. Or look to a platform like Substack, which offers a paid subscription option. He estimates that if you have 200 subscribers at $7 a month, your monthly earning would be $1,159.
Write an e-book
Or use those writing skills to create an e-book. Choose a niche topic rather than a general one to attract readers looking for specific information in your field. The American Association of Publishers said eBook sales totaled $892.5 million and accounted for 7.5% of book sales in the first 10 months of 2021. You can sell your eBook through your own social media and keep all the profits or turn to professional sites, like Amazon, Shopify, Google Play or Gumroad.
Freelance
Today, it's all about the gig economy, and software developers can also take advantage of freelance opportunities. Startups, for example, need software developers who can write code or build apps, and established businesses can use temporary help when they've outgrown their staff's bandwidth. Other potential customers can be found in finance, insurance and manufacturing, to start with. Websites like Gun.io help connect software developers with customers. Gun.io says hourly rates range from $75 to $150.
Tutor
Students, and even professionals, can call on a tutor on an ad hoc or recurring basis. Sign up with a site like Wyzant to offer your services. How much you'll earn depends on your background and experience, but several IT tutors on Wyzant cost more than $100 per hour.
Create a course
These days, learners who want to supplement or replace a college education are turning to online courses, as are people in the workplace who want to hone their skills. Online courses have become a lifeline in the pandemic, and they seem to be here to stay.
Codecademy, which offers a variety of computer science courses, claims to have 50 million learners in over 190 countries. Create an online course, record your video content, and publish it to a site like Udemy, which will help you get started and market your course — for a share of the profits, of course.
Mentor
More advanced than tutoring is mentoring, where you work one-on-one with people in the field to help them solve problems for their current projects or even brainstorm future projects. Sites like Codementor can help you find work, and you can set your own rates and schedules.
The work, of course, is done remotely and you interact with those you mentor through chat, screen sharing, or even text messages.
Create apps
These days, even small businesses have apps and they need someone like you to build them. If you work with Shopify, for example, you can earn money in two ways. First, you can create a custom app for a customer's specific Shopify store. Next, Shopify has an app store, and you can create a generic public app that customers can buy for their business and sell it that way.
Get out of your day job
ZDNet, which provides information and content for IT professionals, said a study of more than 36,200 IT professionals worldwide showed that two in five field workers ran a high risk of burnout.
So maybe working in software development in your spare time isn't the healthiest thing to do. Instead, take some of the suggestions offered here and adapt them to a different skill or hobby for making money. Do you speak French fluently? Tutoring students who need help. Are you a gardening or landscaping expert? Create a course in drought-tolerant plants designed for those with desert landscapes.
Your skills as a software developer are marketable outside of your day job, if you're looking for side work. Some of them are more time-consuming, while others present passive income opportunities, like an e-book. Either way, with a good marketing plan, you could enjoy a lucrative business on the side.
More from GOBankingRates