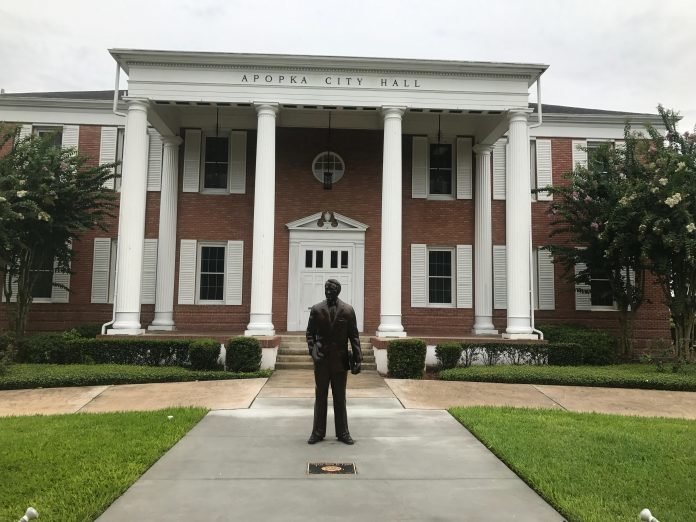 City Council rejects developer's bid for Station Street project
By Reggie Connell, Editor
Apopka City Council voted 5-0 at its Jan. 19 meeting to reject Standard Investments and Holdings LLC's (SIH) proposal to create a mixed-use development in downtown Apopka consisting of retail businesses , office and/or residential development utilizing 3.4 acres of land. property purchased from the City. The RFP (Request for Proposals) was an invitation for qualified developers to bid on the project, however, only one proposal was received.
And part of the reason for the Council's rejection may have to do with campaign contributions during the Apopka mayoral election.
Tony Benge (Benge Advisers LLC) and 654 Ventures Inc. are listed as directors of SIH, and both have donated to Apopka Mayor Bryan Nelson's campaign. Benge's wife also held a fundraiser for Nelson a few weeks ago in Winter Park. Benge is the chairman of Benge Development Corporation, which is currently developing the more than $500 million Floridian Town Center mixed-use project in Apopka and has submitted a letter of intent to purchase the city-owned Harmon Road properties.
According to Jim Hitt, Apopka's director of community development, and the agenda provided for the January 19 city council meeting, the city formed an evaluation committee that included Hitt, Shakenya Harris-Jackson, administrator of subsidies ; Nicole Kennedy, Sustainable Development Coordinator; Kenneth Goodwin, executive director of Homes In Partnership, Inc.; and Monique Morris, citizen of Apopka.
The evaluation committee reviewed and evaluated the bid based on the scoring criteria outlined in the RFP: qualifications of the development team, quality of the design proposal, value to the City, financial viability and performance financial. On January 12, 2022, a virtual evaluation committee was held and awarded the SIH a score of 86 out of 105 points.
"All five members of the valuation committee meeting recommend an intention to trade with Standard Investments and Holdings LLC," Hitt said.
But the city council had several questions and concerns.
A red flag appears
"The biggest red flag for me on this obviously is that we've put out a request for proposals on the street and we're getting a response," commissioner Kyle Becker said. "It's a red flag…because you don't have variety [of proposals]. That's what happened with our downtown with Taurus [Southern Investments], and we see where it is. I think we should learn our lessons."
Becker, who is running for mayor of Apopka against Nelson, also took issue with campaign donations made by Benge and 654 Ventures.
"I think it should be publicly known that the interests that are part of this application process have ties to the people who are running for this Council. So I just want to make sure that it's only "Only one response to the nomination, and there are several interests of the people bidding that had direct ties to the campaign contributions of a member of this council. I just want to make this available to the public."
Becker also pressed Hitt on his efforts to pitch the project to potential developers who may have bid on the project.
"I'm just saying you don't make personal contact with people to sell to them," he said. "I can tell you right now that decision-makers will want to feel like what they are about to do or undertake will be a great investment for them. And if no one on our staff sells them that vision, that's why we only get one response to the tender."
A cone of silence
But Apopka City Attorney Michael Rodriguez reminded Becker of the private nature of tenders once they are posted.
"Commissioner Becker, with all due respect, once a case is announced there is a cone of silence," he said. "Local government cannot solicit or attempt to advertise itself to bidders without violating this cone of silence."
"So no contact is allowed?" Becker asked.
"No," Rodriguez said.
"Okay. Thank you…thank you for putting this on the record," Becker said.
Commissioner Diane Velazquez asked Hitt about the project's process and timeline.
"I understand the request for proposals, the cone of silence. But this committee, I would like to see what their input was in how the scores were determined," she said. "So now you're saying the project will start in two years and end in four years. It's a very vital area and a lot of what we're trying to do is try to move our town center… so that it becomes a realization. So you're really telling us that it's going to take four years to complete?"
"That's the max," Hitt said. "If they come back and say, 'hey, we can do it in three years, and we'll give the park back to you in a year, a year and a half', that's all part of it. I would love to do it in a year , or a year and a half, but there is still a little to do.
Two Options
Apopka Town Administrator Edward Bass also weighed in on the discussion to clarify the RFP's evolution and intent, and to give Council two options moving forward.
"So we started a bidding process. We only got one bid, unfortunately, and I'll tell you this, I was hoping we got more," he said. . "We wanted more. But unfortunately we only received one. If we had received two or more offers, you would have awarded one of them tonight. In this case, we will not only had one. So what you're doing tonight from a supply standpoint, you have to make a decision for the staff to go ahead and negotiate and report their plans. I can imagine a workshop, once the cone of silence is over, then the staff can meet with you one-on-one, and we can talk about those issues, you know, that things that you want to see…and we can work on through these negotiations. What you are doing tonight… saying to negotiate does not commit you to a contract or an agreement with this All you are telling us is to go ahead, to negotiate and to report the information…and then if you still can't come to an agreement in this negotiation, then we're done. We're done and it's dead."
The second option presented by Bass was to simply start the process over.
"Now the other option that you have tonight that you can do too is you can say, 'Personal, I don't like that one. I want to get more offers… try to get more offers. I will tell you that our purchases have worked hard to get offers. But again, that would only lengthen the process. And we could… you could tell us to throw it all away and start over.
An agreement that began in 2019
Becker, however, referred to the history of this project starting well before 2021.
"So this tender was supposed to come out in January 2019," he said. "If you recall when we started having our regular weekly meetings, I remember specifically stating in the first quarter of 2019 that this RFP is supposed to go to market. The reason publicly stated every times was that we didn't have "I don't have the staff to write the RFP. And I think we all agree on that. It wasn't released until 2021. So I can appreciate our lawyer saying, okay, once the offer is released, you're in that cone of silence. But we had more than two years to get the market excited. But we had many opportunities to generate interest and sell the value proposition of this Station Street area.
He also referred to the potential conflict of interest that existed between Nelson and the directors of the project.
"I want to put this Council on notice that typically in campaigns there is an interest in community developers, engineering companies, etc., donating to campaigns," he said. "It's part and parcel of those things. [But] a tender is a little different from a beast, because of the things you describe here, the cones of silence and the inability to talk about concept plans in a public forum. Once again, I will say that there has been a maximum [$1,000] mayoral re-election contributions from interests related to the LLC… the only candidacy in this process. That alone should be enough to get it back on the market. And I would make the motion that we reject that offer and put the tender back on the market."
But Commissioner Doug Bankson did not see the offer alone as evidence of political foul play.
"My only question is how can other unresponsive people get to where the shenanigans are going on?" He asked.
"I don't claim shenanigans," Becker said.
"I'm uncomfortable that we only have one [bid] too," Bankson said.
"And that's where I was going to be," Becker said. "But when I look into these things more, how can I go to members of the public and say, 'Yeah, I've decided to award a contract. And oh, by the way, one of the interests in this LLC held a campaign event for one of the people who showed up for this council, and another was a max donor in the last contribution list. One plus one doesn't equal two to me. And so with that, for everyone to feel like it's on the rise…and the most valuable process, I think it has to go back into the market."
Becker also thought a different approach might trigger more bidders in a second round.
"And to your [Bankson's] period, if there is only one return offer, what does that say about the market as a whole right now? They say, 'hey, we don't have enough interest or demand to do this type of project. So maybe it's up to us to say, let's stop there. But I don't agree. Unless someone can prove and show me who they're talking to, outside of the cone of silence to say I approached this developer I approached this person to really sell them the value of what we're trying to do here…maybe we have a different story."
Minority stake
With the idea of ​​putting the RFP back on the market, Commissioner Alexander Smith had a request.
"The RFP also didn't include the fact that since this is a partnership with the city, we would like to have a minority stake in this project," he said. "I remember we voted a while ago to get some grants that we had to have…so is that part of this RFP?"
"I don't recall that being part of the RFP itself," Hitt said.
"So is it something we can negotiate as part of the contract?" Smith asked.
"I can put that in there. Sure," Hitt said.
"So does that mean we go back to the drawing board and put it back this way?" Bankson asked. "Is that what you're saying, Commissioners?
"Yes," Smith said. That is why I support Commissioner Becker's motion."
"Okay, we got a motion to reject Commissioner Becker's offer," Nelson said. A second by Commissioner Smith. All those in favour, say yes. All opposites? Motion passed unanimously. Thank you."