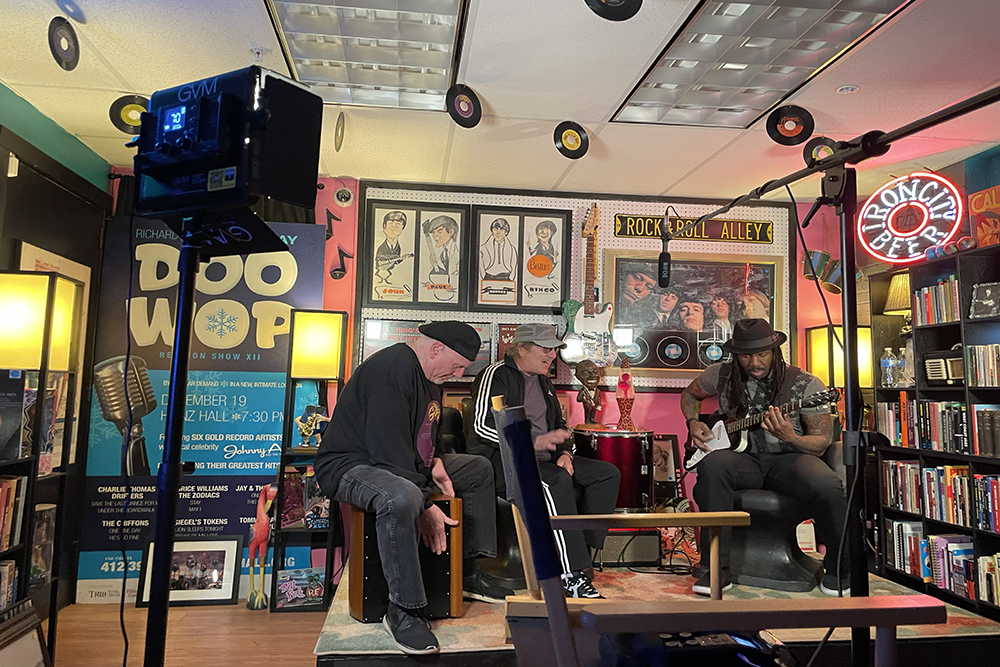 Old music meets new on YouTube show hosted by Johnny Angel and Byron Nash
Iyears old Johnny Angel's Ginchy Stuff, minds collide.
Surrounded on all sides by signed musical memorabilia, records, radios, books and more, Jack Hunt — known in Pittsburgh and beyond as the titular frontman of Johnny Angel and the Halos — sits on a stage with Byron Nash . Hunt, 70, and Nash, 49, are the two halves of Bridging the Gap, a new YouTube series featuring banter, commentary and jam sessions with members of the Pittsburgh music scene from then for now.
The goal, says Hunt, is to talk about music and how old meets new with a wide range of Pittsburgh guests from different generations and musical genres.
"Instead of having all the oldies, there will be someone from my era, someone from Byron's era and in between, so we can show different perspectives on the Pittsburgh music scene," says -he.
Hunt has been a fixture on the local scene for over 50 years, and his career is well preserved at his Ginchy Stuff museum and store in the Casey de Chateau industrial park. The store, a stone's throw from downtown, has been around for about six years and serves as a recording studio for Bridging the Gap; both hosts hope the show will help make people aware that she's there.
"I want it to continue when I'm gone," Hunt says.
Jimmie Ross, of longtime local favorites the Jaggerz, says the collection is so impressive it contains memorabilia from his own band that even he doesn't have.
"This place is like a jewel. It's a jewel in the sand or something, you know what I mean? said Ross, who had just finished taping his episode of the show with Hunt and Nash. "It's incredible."
Nash's musical legacy is equally storied; he's spent years playing with artists like Busta Rhymes, 50 Cent and more, and as a working musician, he's got his finger on the pulse of all things current. But nonetheless, he says he appreciates those who came before him and sees the YouTube show as a way to both carry on a tradition of storytelling and preserve the legacy of older greats.
"We can talk about music, we can talk about experience, things like that," he says. "From my point of view, it's really important for [Hunt's] legacy to know.
The pair met in 2019 after fundraising at the Roxian Theater in McKees Rocks. Nash had been invited to appear on YaJagoff, a podcast co-hosted by John Chamberlin and Rachael Renneback, Hunt's daughter.
The idea for the YouTube show was born out of their mutual appreciation of the city's rich musical history – and, more importantly, the people who make up that history.
So far they've taped nine episodes with a range of Pittsburgh-based musicians: Mark Ferrari, Pete Hewlett, Jacquea Mae, Stephanie Wellons, Chuck Blasko, Jacian Blaze, Miss Freddye, Clinton Clegg and, of course, Jimmie Ross. Ross became a household name among the Jaggerz, the band that got their taste of fame with the 1970 hit "The Rapper." He then became a member of the Skyliners and, after that, of Cooper & Ross.
The first episode was released on March 8 on the Byron Nash and YaJagoff YouTube channels. After that, new episodes will air every two weeks until November, when there will be a short break before a holiday show finale.
Each show will have three segments. The opening segment, Hunt says, involves the hosts discussing different flavors of music and naming a record of the week. The second segment is talking to this week's guest, and the third – what Hunt calls "the fun part" – is an unrehearsed jam session with Hunt, Nash and their guest.
"We're just doing a little jam, and I think that brings it all together and shows that you don't have to be from the same era or gender or age to be able to tune in," Nash says.
Nash adds that he hopes the show will inspire and uplift all generations of musicians, from seasoned professionals like Hunt and his friends to up-and-coming new artists who may not yet have found their footing on the stage. It's a sentiment shared by Ross.
"[The goal is] to spread the word, just like Jack said," says Ross. "I'm sure a lot of young musicians are going to listen to this, and you can do it, man, you just gotta go out and do it. Stick with it. That's all.
Hunt hopes the show will give its viewers some much-needed respite in a time that looks increasingly dark.
"I think people are tired of the problems in the world right now. They're looking for an escape, which is why some of us even got into music in the first place. [This show] gives them something else to talk about instead of the ugliness that's going on there," he says. "That's music – music is to divert your mind from ugliness."